Athens Workshop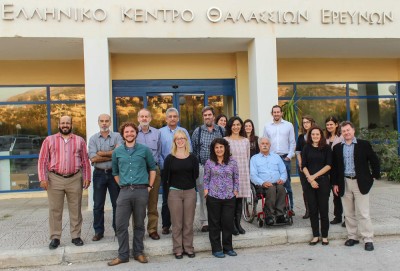 DISPERSE members held a two-day workshop at the Hellenic Centre for Marine Research (HCMR) on the 11-12 November to discuss current results and future plans with particular focus on the Red Sea.
The meeting was convened to bring together members of the DISPERSE team, some of the DISPERSE Advisory Members and External Experts, and other members of HCMR, in a two-day Programme of presentations and discussions.
A major focus of the meeting was to evaluate the results of underwater survey undertaken so far in the southern Red Sea and to discuss the prospects for future underwater work. This included an overview by Nic Flemming of the current state of play with Continental Shelf Prehistoric Research following the European Deukalion, SPLASHCOS and SUBLAND initiatives, an update by Dimitris Sakellariou and the HCMR team on the current analysis and interpetation of the data and sediment cores collected during the 2013 cruise of the HCMR's research vessel AEGAEO, and an evaluation by Garry Momber of the results of shallow water survey and diving.
Presentations also included current results and interpretations of on-land survey in SW Saudi Arabia and the Farasan Islands and their implications for offshore survey (Maud Devès, Robyn Inglis and Matt Meredith-Williams), and the most recent work on tectonic modelling and edaphic survey in the Kenyan Rift (Geoffrey King).
Nena Galanidou presented the results of her recent work on Lower and Middle Palaeolithic sites in the Aegean (Lesvos Island) and the Ionian Islands. Both involve an element of underwater survey and clearly point to the need for more intensive future underwater and on-land research on coastal palaeogeography, tectonics and marine geology, and potential synergy and fruitful comparison with DISPERSE research in other regions.
Najeeb Rasul (Saudi Geological Survey), and Abdullah Alsharekh (King Saud University) presented the current state of Saudi Arabian research in marine geology-sedimentology and Palaeolithic archaeology respectively, and the nature of logistical and funding support available through Saudi Arabian organisations and institutions.
Posters showing more detail about the results of recent work were also displayed including detailed data on the analysis of the marine cores from the AEGAEO Survey, and posters recently presented at meetings in Oxford, UK (Robyn Inglis et al., at the Green Arabia conference), Basel, Switzerland (Niklas Hausmann et al., at the 6th ISBA Conference), and at King Abdulaziz University, Jeddah (Najeeb Rasul et al., at the International Conference on the Marine Environment of the Red Sea).
Photograph shows the participants at the meeting in front of the entrance to HCMR's headquarters at Anavyssos on the Attica coast south of Athens.
Back Row (L to R): Constantina Tsambouraki-Kraounaki, Alexandra Zavitsanou, Matt Meredith-Williams, Antonia Diamantopoulou, Eleni Kaberi
Middle Row (L to R): Abdullah Alsharekh, Dimitris Sakellariou, Geoff Bailey, Najeeb Rasul, Geoffrey King, Nena Galanidou, NIc Flemming (seated)
Front Row (L to R): Niklas Hausmann, Robyn Inglis, Maria Geraga, Maud Devès, Garry Momber