DISPERSE Down Under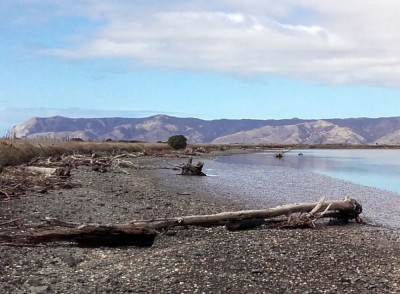 The trip was hosted by Simon Holdaway between 17th March and 5 May and included public lectures and seminars at the University of Auckland and the Museum of Auckland as part of a Hood Fellowship, lectures at the University of Sydney and Macquarie University, and visits to archaeological sites and landscapes in New Zealand and western New South Wales.
The landscapes of New Zealand and outback Australia make for a striking contrast. New Zealand is one of the most tectonically active regions in the world, being located on the boundary between the Pacific and Australian plates, with extensive volcanic fields in the North Island and impressive faulting and uplift associated with the Alpine and Marlborough fault systems further south. Outback Australia is one of the least active regions in the world, with ancient and heavily eroded basement rocks, soils depleted in mineral nutrients and vulnerability to episodic fluctuations in rainfall.
Visits in New Zealand included the famous coastal site of Wairau Bar in the Blenheim region of South Island, one of the earliest archaeological sites in New Zealand, with Atholl Anderson and members of the Rangitāneiwi (tribe) of the area, the active faulting systems of the Marlborough and Wellington regions with Bruce McFadgen, shell middens of the Coromandel Peninsula with Louise Fury, and the active volcanic landscapes of the Auckland region, Rotorua and Lake Taupo in the North Island.
The photograph shows the western edge of the Wairau Bar site, now being eroded into the adjacent stream channel, looking south towards the complex faulted topography of the Awatere region.
In Australia, Simon Holdaway and Trish Fanning took Geoff, Robyn Inglis and Matt Meredith-Williams to see at first hand the fieldwork area north of Broken Hill where they first developed their methods for the geoarchaeological analysis of surface stone tool assemblages and open-air hearth features. See Robyn Inglis's blog: (https://surfaceproject.wordpress.com/2016/05/03/lithics-in-the-landscape...)