DISPERSE Lecture at the Saudi Geological Survey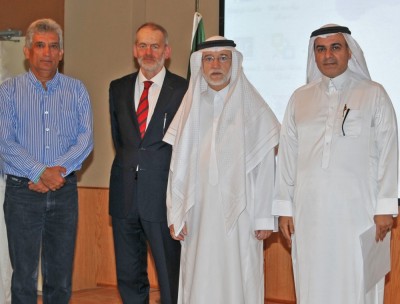 Geoff Bailey gave a lecture at the headquarters of the Saudi Geological Survey in Jeddah on 10 December.
The lecture, entitled 'Sea-Level Change and Human History: the Red Sea as a Global Laboratory', set out the rationale for geoarchaeological research carried out on land and underwater in the Red Sea region over the past 10 years by the Southern Red Sea and DISPERSE projects led by Geoff Bailey and Abdullah Alsharekh as a joint Saudi-international project.
The lecture emphasised the worldwide interest that is now focussed on the Red Sea region because of the unusually favourable conditions that it presents for the understanding of Quaternary sea-level change and the earliest human dispersals out of Africa. The lecture covered the new hypotheses about dispersal patterns being generated by palaeogenetic analysis, the periodic 'greening' of the Arabian desert by episodic climate change, the significance of sea level change in facilitating crossing of the southern Red Sea channel between Africa and Arabia and in opening up extensive new territory on the now-submerged continental shelves of the southern Red Sea, the world-wide importance of the new field of continental shelf prehistory, the new field research being carried out by the DISPERSE project under water and on land to reconstruct the evolution of the landscape and search for new archaeological data, and the evidence for early developments in coastal and marine palaeoeconomies in the region.
All the indications from new research are that the Arabian Peninsula, so far from being an arid cul-de-sac bypassed by the main currents of cultural evolution, has played a central role in the grand narratives of world prehistory. The Southwest region is likely to have been of particular importance because of its perennially green character and ecological diversity, and its proximity and easy accessibility to the African rift.
The lecture concluded by emphasising the scale of the research involved in pursuing these topics, the need for multi-national and multi-disciplinary collaboration, and the new opportunities now opening up for future research.
The lecture was attended by the President Dr. Zohair A. Nawab, the Assistant President Dr. Abdullah M. Al Attas, and other members of SGS. The occasion also offered the opportunity to link the recent SGS-led fieldwork with the wider research of the DISPERSE project, and to discuss plans for future collaboration.
The photograph shows (L to R) SGS Technical Adviser Dr. Najeeb Rasul, Prof. Geoff Bailey, SGS President Dr Zohair Nawab and SGS Assistant President Dr. Abdullah Al Attas