DISPERSE research at the Middle Palaeolithic in the Desert Conference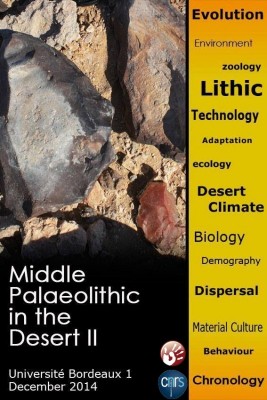 Robyn Inglis presented ongoing research on the Palaeolithic of SW Saudi Arabia at the 'Middle Palaeolithic in the Desert 2' conference in Bordeaux, France in December.
The conference took place between 11 and 13th December at the Université Bordeaux 1, and brought together researchers who are working on the Middle Palaeolithic occupation and environment of the mid-latitude arid belt.
Robyn gave a presentation entitled 'The Middle Palaeolithic Along the Coast - New Data From Southwestern Saudi Arabia', co-authored by Anthony Sinclair, Andrew Shuttleworth, Matthew Meredith-Williams, Niklas Hausmann, Abdullah Alsharekh and Geoff Bailey.
The programme for the meeting can be found here: https://sites.google.com/site/middlepalaeolithicdesert/presentations