DISPERSE Research at the XIX INQUA Congress, Nagoya, Japan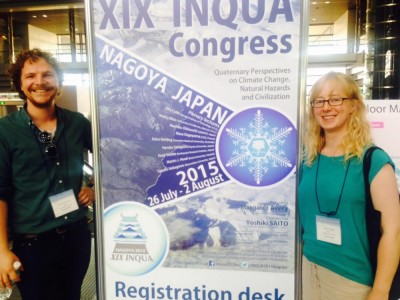 Robyn Inglis and Niklas Hausmann presented their DISPERSE Research at the XIX INQUA congress in Nagoya, Japan from 27th July to 2nd August 2015.
The quadrennial INQUA congress is the leading global conference for Quaternary science. A multi-discipline conference, it brings together scientists from around the world working on all aspects of Quaternary science, including geomorphologists, palaeoecologists and archaeologists, and aspects of DISPERSE research were represented through a number of contributions.
Robyn Inglis presented a talk on geoarchaeological survey she has led in Asir and Jizan regions entitled 'Landscape Evolution, Taphonomy, Palaeolithic Archaeology and Early Hominins in Southwest Saudi Arabia' along with DISPERSE colleagues Anthony Sinclair, Andrew Shuttleworth, Abdullah Alsharekh, Saud Al Ghamdi, and Geoff Bailey. This presentation was in the session 'Geoarchaeology: Integrating Palaeoenvironmental and Archaeological Records for Ancient Landscape Reconstruction' which she also co-convened.
Niklas Hausmann presented his PhD research on seasonality in the Farasan shell mounds in a talk entitled 'Decoding Stratigraphies Using Seasonality Data' in the 'Seasonal Palaeoenvironmental Records From Archaeological Sites' session.
Robyn Inglis also presented a poster Dynamic Coastlines and Human Prehistory: the DISPERSE Project Investigations in the southern Red Sea summarising recent DISPERSE research.
Robyn's attendance at the conference was supported by grants from the Quaternary Research Association and INQUA, and Niklas' by a grant from York's Department of Archaeology.