Fieldwork Reconnaissance in Saudi Arabia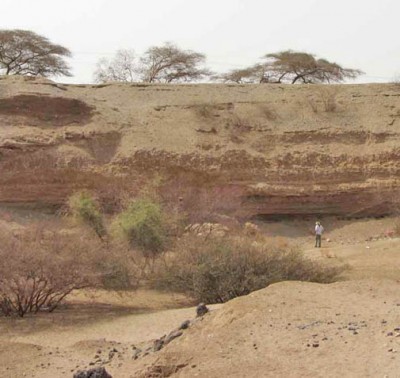 Maud Devès, Robyn Inglis, Matt Meredith-Williams and Saud Al Ghamdi made a first reconnaissance of Palaeolithic landscapes in SW Saudi Arabia.
The fieldwork took place with the collaboration of the Saudi Commission for Tourism and Antiquities between 22 May and 15 June. The primary objectives were to make a first assessment of the landscape zones within the study area, from the coastal plain to the western part of the Arabian escarpment, as a function of the geology, geomorphology, and the underlying tectonic and volcanic processes, and to search for archaeological sites. The team also made a preliminary visit to the Farasan Islands.
The team identified a number of promising areas for future archeological survey as well as quarry sections like the one shown in the photograph at Hajambar, with deep sequences of Pleistocene sediments likely to provide important palaeoenvironmental and palaeoclimatic data.