New fieldwork in Farasan and Jizan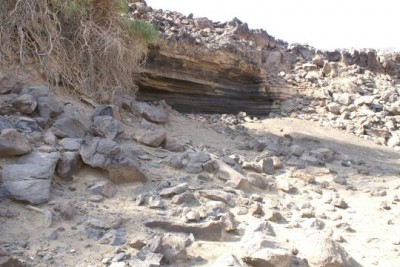 Geoff Bailey, Robyn Inglis, Matt Meredith-Williams and Niklas Hausmann carried out new fieldwork and reconnaissance on the Farasan Islands and the Jizan mainland In November.
The team undertook fieldwork between 11 and 24 November to follow up the June reconnaissance, and to plan new survey work on the mainland and new shell mound excavations in 2013. They completed the excavation and column sampling of the Janaba 4 shell mound, and filled in the excavation trenches, identified target shell mounds for new sampling and excavation in 2013, visited areas previously identified on the mainland in the June reconnaissance, collected new lithic and palaeoenvironmental samples,and identified new target areas and sites for future investigation, including the rockshelter shown in the photograph..
The preliminary fieldwork report can be found here