New Palaeolithic Survey in Saudi Arabia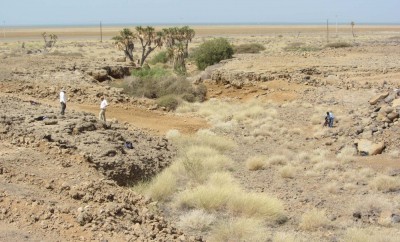 During February, DISPERSE team members Robyn Inglis, Abdullah Alsharekh, Anthony Sinclair and Andy Shuttleworth carried out extensive new field survey in the Jizan and Asir provinces.
The fieldwork took place over a four-week period, during which the team visited 54 new target areas and collected over 700 lithic artefacts including material representative of Early, Middle and Late Stone Age periods. The finds include important material from the new site of Wadi Dhahaban, where Middle Stone Age lithics are embedded in deposits associated with a coral beach formed at an earlier period of high sea level, shown in the accompanying photograph. This is an extremely important find since it is one of the first occasions that we have found Palaeolithic material in stratified deposits, and future work is planned to clarify the geological context and age of the material.
The preliminary report on the fieldwork can be found here