News of our Postdoctoral Research Team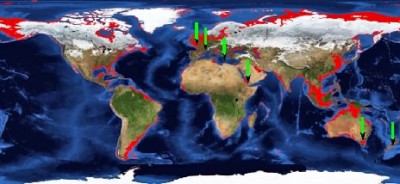 As the DISPERSE project draws towards its formal end (31 March 2016), and members of the team reach the end of their research contracts, they are dispersing to new positions around the globe.
Maud Devès is a Research Fellow in the program 'Earth Politics', a new research initiative funded by Sorbonne Paris Cité under the leadership of Bruno Latour, with responsibility for the research axis 'Risks, Expertise and Disaster Media Coverage'.
Matt Meredith-Williams is currently in the second year of his Marie Skłodowska-Curie International Fellowship 'INTERACT' – Integrating Archaeological and Climatological Datasets: Investigating Global Human-Environmental Interactions – at the University of Auckland, New Zealand, working with Simon Holdaway, and has been appointed to a new lectureship in the Department of Archaeology and History at La Trobe University, Melbourne, Australia, tenable from April 2016.
Isabelle Winder has been appointed to a new Lectureship in the School of Biological Sciences at Bangor University to develop a new teaching and research strand in human evolution, beginning in January 2016.
Robyn Inglis has departed for Australia this month on the first leg of her Marie Skłodowska-Curie International Fellowship, 'SURFACE' – Human-Landscape-Interactions and Global Dispersals: The SURFACE Record of Palaeolithic Arabia – to work with Patricia Fanning in the Department of Environmental Sciences at Macquarie University.
Niklas Hausmann has been awarded a Marie Skłodowska-Curie Individual Fellowship, to be taken up later this year, ACCELERATE – ArChaeological and Climatic data from ELEmental ratios using Rapid Analysis of shell carbonaTE – to work with Demetrios Anglos at IESL-FORTH, Crete (the International Electronic and Laser Laboratory, Foundation for Research and Technology Hellas) on the application of Laser Induced Breakdown Spectroscopy to shell mounds.
Garry Momber will resume his full-time role as Director of the Maritime Archaeology Trust in Southampton after March.
The work of the DISPERSE project is not so much coming to an end as evolving in new directions. Congratulations to all members of the team on their new appointments. We look forward to further developments and future collaborations and will report on these here as they arise..