ROCEEH Expansions 2015 International Conference, Frankfurt am Main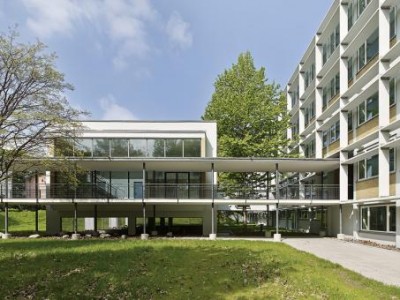 ROCEEH – the Role of Culture in Early Expansions of Humans – is a long-term project funded by the Heidelberg Academy of Sciences, involving collaboration between staff from the Senckenburg Research Institute, Frankfurt, and the Karl Eberhard University, Tübingen. For further details click here. ROCEEH organises periodic workshops and conferences including invited speakers from outside the ROCEEH Project, including the Expansions 2015 International Conference reported here.
Geoffrey King gave a presentation on Hominin Evolution in Dynamic Environments (with Simon Kübler, Sally Reynolds, Peter Owenga, Stephen Rucina, Isabelle Winder & Geoff Bailey). Geoff Bailey talked on Coastlines as Pathways of Hominin Expansion: A view from the Red Sea (with Dimitris Sakellariou, Garry Momber, Maud Devès, Robyn Inglis, Matthew Meredith-Williams & Abdullah Alsharekh). For full details of the conference programme click here. Simon Kübler also attended the conference and presented a poster on Edaphics, tectonics and animal movements in the African Rift: implications for early human evolution and dispersal, and the meeting provided an opportunity to discuss future potential collaborative opportunities with members of the ROCEEH project.
The conference took place in the lecture theatre of the Bik-F Building (pictured), which houses the Biodiversity and Climate Research Centre, a joint initiative of the Senckenburg Nature Research Society and the Goethe University of Frankfurt am Main, in a building designed in the 1950s by the famous German architect Ferdinand Kramer and recently refurbished to provide purpose-built facilities while retaining many of the building's original design features.