Royal Academy of Engineering Summer Exhibition: Design for Living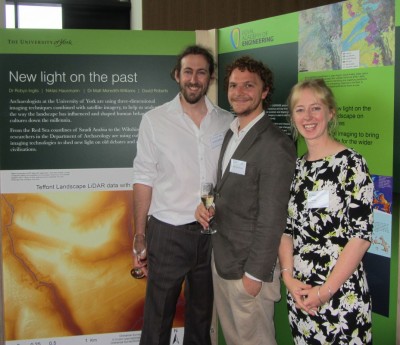 Research by DISPERSE project members Robyn Inglis, Matt Meredith-Williams and Niklas Hausmann featured prominently in the Department of Archaeology's contribution to the RAEng's Summer Exhibition.
The panels, entitled 'New Light on the Past' showcased DISPERSE research on the use of satellite imagery and photogrammetry in Saudi Arabia alongside other Department of Archaeology research. Matt Meredith-Williams, Niklas Hausmann and Robyn Inglis (L to R in the photo) attended the RAEng's Summer Soiree on the 27th June, a private view of the exhibition held in the presence of HRH The Princess Royal, the Academy's patron. The exhibition was held at York as part of the annual Festival of Ideas to celebrate the University's 50th anniversary. Archaeology's contribution, including the DISPERSE work, was featured as one of the highlights of the exhibition in the Financial Times review of the exhibition.
The exhibition, open to the public showcases research demonstrating the application of engineering solutions to climate change, environmental sustainability, history, archaeology and biology. Further details